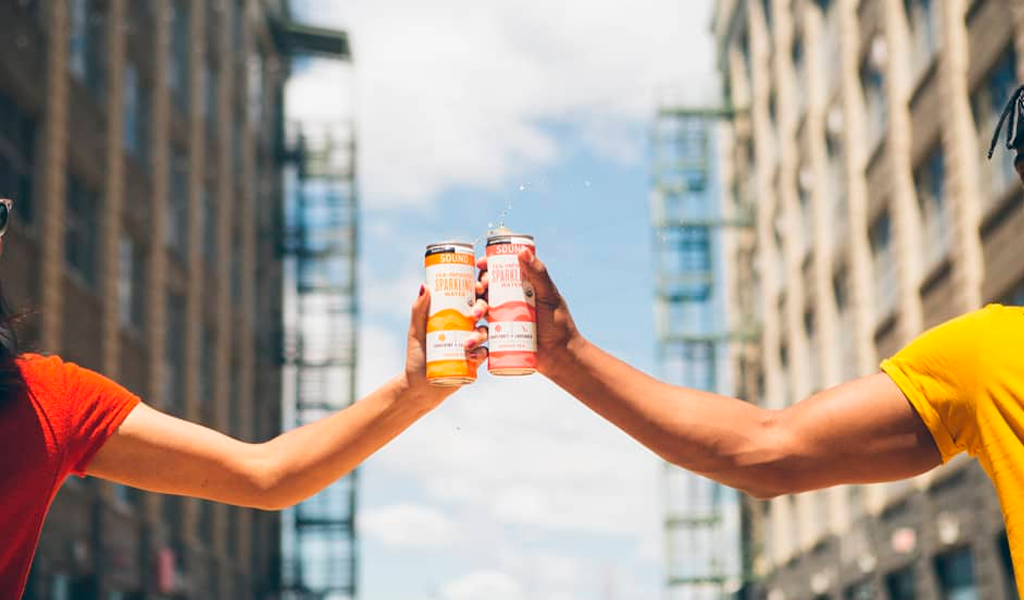 With a 80-95% profit margin, it's common knowledge that beverages are one of the most profitable items sold at any given restaurant. In fact, most restaurant operators wouldn't be able to keep their doors open without the sale of beverages.
And yet, with fewer and fewer people consuming traditional soda, beverage sales at restaurants is trending downward. One recent study by the NPD Group estimates that 2 billion fewer beverages were served over a span of 5 years (a decline of 4%). Even with the addition of new and innovative beverages over that time period — which helped recapture some of the loss — the net result was a significant reduction in drink sales.
For restaurants and food operations that depend on beverage profits, this trend could be fatal. A once thriving well of revenue is drying up. What's the solution? One critical factor is successfully managing the beverage incidence rate.
What is Beverage Incidence Rate?
Beverage incidence is the percentage of total food transactions that include the sale of a beverage. For example, a beverage incidence ratio of 30% means that 30% of all transactions include the sale of a drink. The incidence rate is typically discussed in terms of "points", with one point equating to a single percent, and can also be referred to as the beverage attachment rate.
Of course, a higher beverage incidence rate generally translates to higher check sizes, beverage revenues, and ultimately, beverage profits. And it all can happen without needing to entice a single new customer to enter the doors. It's a powerful metric to manage.
The Outsized Impact of Increasing Beverage Sales
Finding ways to entice more customers to purchase a drink with their meals is of vital importance. The good news is that given the highly profitable nature of beverages, a little movement in the right direction can yield disproportionate positive results. 
In fact, increasing the percentage of transactions with beverage sales by just 1 point can yield hundreds of thousands – if not millions – in incremental profits for the average restaurant chain.
For a 100-unit chain generating 700 transactions a day with an 80% beverage profit margin and an average drink price of $2.50, increasing beverage incidence by only a single point yields more than $500K in incremental profits.
For a 1,000-unit chain, a 1% increase in beverage incidence translates into over $5 million in incremental sales. And for a chain with 10,000 units, the incremental profits are over $50 million.
Growing Beverage Incidence Requires Effort
What's the secret to growing beverage incidence? It's not easy, and there's no silver bullet. Much like today's advertising gurus are less "mad men" and more "math men", growing beverage incidence today doesn't require a stroke of genius. Rather, successfully managing incidence relies on an extraordinary amount of data, analytics, and testing. It's much more of a science based on data than an art based on feel.
Every restaurant concept's demographics are different, and every individual location is unique. To grow beverage incidence, an organization must fine-tune a series of dials and determine which is the right set for their organization – and increasingly – each individual location within the organization.
In a nutshell, growing incidence requires effort — focused, disciplined, and sustained effort.
The 5 P's of Growing Beverage Incidence
We like to break down all of the tools at an operator's disposal into 5 distinct buckets: the 5 P's of growing beverage incidence. The 5 distinct buckets are product, pricing, place, people, and process.
Product
Not surprisingly, the most critical piece of the puzzle is having the right products to suit the demographics of your customers. At the macro level, this means having the right product categories to cater to your guest's needs. It's not just about traditional colas and flavored sodas anymore. In today's world, it's about offering the right categories, including teas, coffees, juices, premium waters, aguas frescas, craft sodas, smoothies, alcohol and more.
On the micro level, however, it's about having the right flavors within each chosen category. Every location should have a specific flavor profile built to match the demographics of the unique visitors to that particular property. Even in concepts that have highly standardized build-outs, menus, and equipment, in order to maximize beverage incidence, each product should be scrutinized. For example, an 8-valve fountain machine should not have the same flavors in downtown Chicago as you find in the Chicago suburbs — even if the rest of the menu is identical. Fine tuning the product offerings is heavy lifting, but can offer some meaningful results.
In addition to the right product combinations, providing limited time beverage offerings, a series of premium, non-refillable beverage upsells, or branded proprietary products are also levers to pull in growing beverage incidence.
Pricing
Pricing is another critical element in the puzzle of growing beverage incidence. As Starbucks had made clear, beverage pricing and menu labeling – if grounded in principles of behavioral economics – can be highly profitable. The simple act of providing the right set of price and size options – and labeling them on the menu in particular ways – can have a dramatic impact on the number of guests who purchase a beverage. Even the simple act of pricing a beverage to end in .99, .00, or .95 can have a meaningful impact. Each ending can unconsciously signal a different reaction in a guest's mind. All of these options should be thoroughly explored, tested, and evaluated.
Another tool in the pricing toolbox is to manufacture value through the pricing architecture. Meal bundling, combo's, and value meals can significantly drive incidence by lowering the cost of a beverage in a consumer's mind and making it simpler to transact. Couponing – both in-store and externally – can also have a meaningful impact. On the other end of the value spectrum, adding perceived value to a beverage transaction through becoming eligible for a raffle, give-away or other promotion can also help to bring attention to beverages and boost sales.
Place
One's environment has a significant impact on subconscious decision-making – and that extends to beverage purchasing. Making sure the beverage equipment – fountain units, coolers, urns, ambient racks, bubblers and more – are clean, visually appealing, and modern can significantly improve incidence rates. Keeping the fountain lines sanitary and the equipment wiped down has a real impact.
Another consideration is the location of the equipment and product itself. Having a counter-level cooler featuring product with which guests can interact will sell more product than a cooler full of product that sits in the crew-serve area. When beverages are top of mind at the point of sale, incidence increases.
People
People can be a business' most important asset, and ensuring the people on your team are thoroughly equipped and trained to sell more beverages is critical. Developing an intentional strategy for engaging guests as it pertains to beverages will lead to success. Suggesting a specific beverage or beverages is much more impactful than "What would you like to drink?" When offering to refill a beverage, "Can I bring you another bottle of Bundaberg Root Beer?" is much more appealing than "Want another drink?"
Research has shown that supporting these suggestive selling events with not only training, but proper rewards, encourages engagement. Offering giveaways, bonuses, or vacations – which can often be supported by an organization's beverage partner – produces excitement and reinforces the behavior. Secret shoppers, signage in the crew areas, and product samplings are all important tools in this endeavor.
Process
Thinking critically about the process of ordering a beverage can yield great results as well. On mobile and online platforms, building a page during the check-out sequence that suggests a drink pairing with the meal a guest has chosen or a pop-up before placing an order which reminds guests that haven't chosen a beverage can dramatically boost beverage sales. Amazon has famously grown profits by ruthlessly eliminating any friction involved in placing a sale. It's important to determine how to make a beverage transaction as simple as possible.
Test, Evaluate, Repeat
There's no magic formula for growing beverage incidence, and what works with one company's clientele may not work for another. The good news is that with some good data and reporting, no one has to find their way in the dark. We always coach our clients to present a hypothesis, test a small subset of the locations against a control group, and evaluate the results. Then, expand and implement what works and move on to test the next hypothesis. 
Growing incidence is an ongoing, evolving process that requires constant attention. It's never complete, because both the beverage industry and your consumers are constantly changing. It often requires dedicated attention from a full-time staff member or a team of staff in order to get it right. The results, however, can speak for themselves.
We're Here to Help
At Enliven, we're passionate about the beverage industry and making every beverage program as efficient and profitable as possible. To us, every point of increased beverage incidence represents both happier guests who were able to find a beverage that satisfied their needs, as well as happier operators who are able to invest in their staff, customers and organization. 
We have built a team of account coordinators and analysts who are dedicated to fine-tuning the calculations that lead to increased beverage incidence rates. We have worked with operators of all types and sizes and we have the expertise and insights that lead to real results. 
If you don't have a team that's constantly monitoring and managing beverage incidence, it's likely you are leaving money on the table. Incidence rates don't grow themselves, and leaving the task to your beverage partner to manage is a mistake.
We're here to help you develop the best beverage program possible. We can take our breadth of experience, run your concept through our demographic analytics, and propose several initiatives that we think have the highest potential to increase your profits. We'll manage the whole process and provide you with weekly reporting to gauge success and let you know the precise results of the initiative.
Sound intriguing? Contact us today to find out how we can help you sell more beverages and retain more profits for your business.
Additional Resources:
How Exclusive Beverage Deals Lead to Increased Sales
Are You Happy with Your Fountain Syrup Price Increases?
Coke Freestyle vs. Pepsi Spire: The Cola Wars Re-Ignite!
Photo by The Creative Exchange on Unsplash